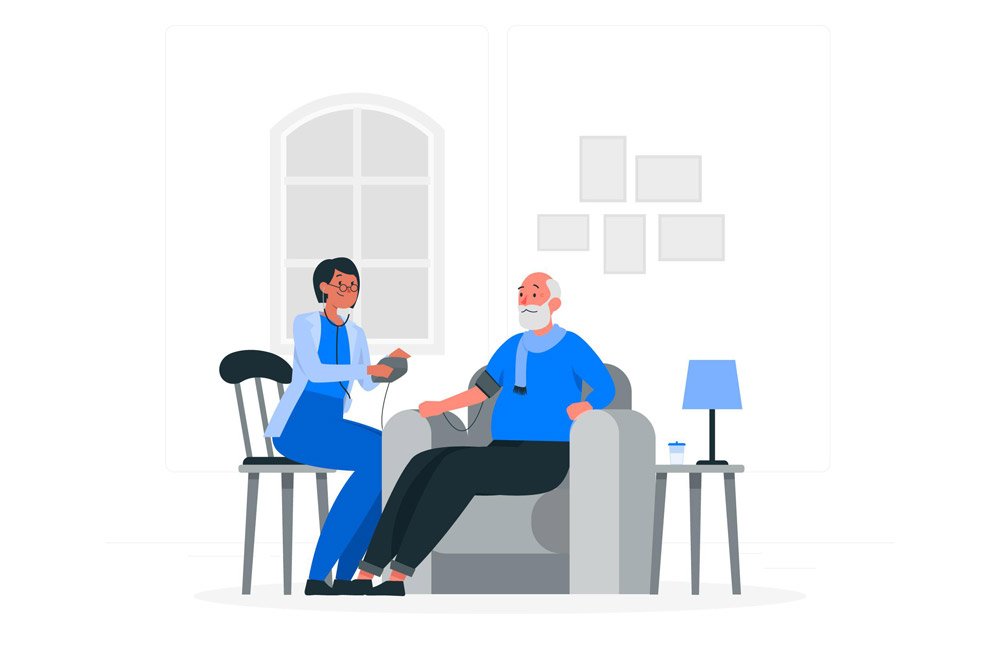 How Home Visit Doctors are Beneficial for Patients?
September 5, 2023
"Doctor, please be honest. Does she stand a good chance to come out of this? I am ok to spend more, and bear all the expenses, if you think she will survive" said the young man across my table.
His 75 yo mother-in-law had flown in from Patna, a few weeks ago. She had been suffering from fever on and off for the past 1 week, and was briefly and inadequately on a few medications. She presented with pneumonia, and deranged blood gas levels – a condition termed respiratory failure. Her blood pressure also fluctuated due to an irregular heartbeat, and her ECG confirmed she had Atrial Fibrillation. This was her 6th day in the ICU and she was now on ventilatory support. Her scans and blood tests did not reveal anything beyond an infection. A bronchoscopic evaluation did not reveal anything sinister. She had been shifted to the room two days ago, but developed respiratory distress last night and was shifted back to the ICU.
This was a treatable condition, I assured him. She needed to be on a long course of antibiotics and supportive treatment until her lungs recovered. The fluctuant heart rate and BP complicated the issue further. The family was financially and emotionally drained. The daughter had not reported to work for a week and her husband had now entered the picture. Their child was unwell and it was clear that he had not slept last night. It was easy to tell that they were on the verge of giving up.
Two days later she seemed to be recovering well, off the ventilator, and was shifted to the room. Once her fever spikes settled and her oxygen requirements decreased, she could be discharged home- theoretically speaking. A timeline was unpredictable.
That night she developed a repeat episode- fever, low oxygen levels, and drop in her BP, requiring her to be shifted to the ICU once again. With the insurance amount now nearly depleted, the family wanted to place things in perspective. A family conference was called for and the team including the critical care, pulmonology, and myself were present. A new relative had appeared out of nowhere and his decisions seemed to matter to the family. The daughter was conspicuously absent and I felt that the son-in-law wore a resigned look on his face. These last-minute-appearing- relatives were the most dreaded. They would neither know any details nor were familiar with the treating team, often instilling seeds of distrust in the care providers. They spoke of age-related decline. Phrases such as "We are ready to accept" " She has lived her time, probably". "What is the guarantee- how long this will continue" and "quality of life" were thrown around.
They were right and yet they were wrong.
This conversation was being hijacked and they were nearing a decision to wean her off ventilator support and place an order for 'Do Not Escalate.'I was upset by their decision and reiterated that this support is only temporary and once her lung functions improved, she need not be on any lifelong support. This could take days or weeks, but a time or day was anybody's guess.
A decision was made to shift her to the room on a semi–ventilator machine, a device called a Bi PAP. They had given up and were thinking of discharging her to a local hospital or home on oxygen until the remainder of her life.
A few hours later, the daughter came to my chamber, partially covering her face with her shawl. Her eyes were teary and bloodshot, and among stifling sobs, she asked my opinion.
"She should improve. Let us continue to do what we are doing. We can shift her to the room on Bi PAP support. But do not take her home. She has not recovered…yet" I added "Please don't give up".
She was shifted to the room. What followed was a steady recovery. Her fever abated and her oxygen requirements were at a minimum. A week later she was discharged home.
When she came to my OP chamber the other day, she was off any oxygen support and slowly walked up to the examination couch from the wheelchair. She had steadily recovered and she was flying back to her hometown the following day.
She had recovered. Slowly, but surely.
The practice of geriatric medicine is often fraught with turbulence and unpredictability. One seemingly trivial problem can escalate and lead to a collapse of the whole system. This can have profound effects on the physical, mental, and financial health of the caregivers. This is why it is important to have periodic health checks and early attention to medical issues.
It is difficult when age complicates the picture. It is difficult when resources are constrained. -it's even easier to give up. There are lots of senior care services available right now.
Give them a chance.
#resilience #frailty