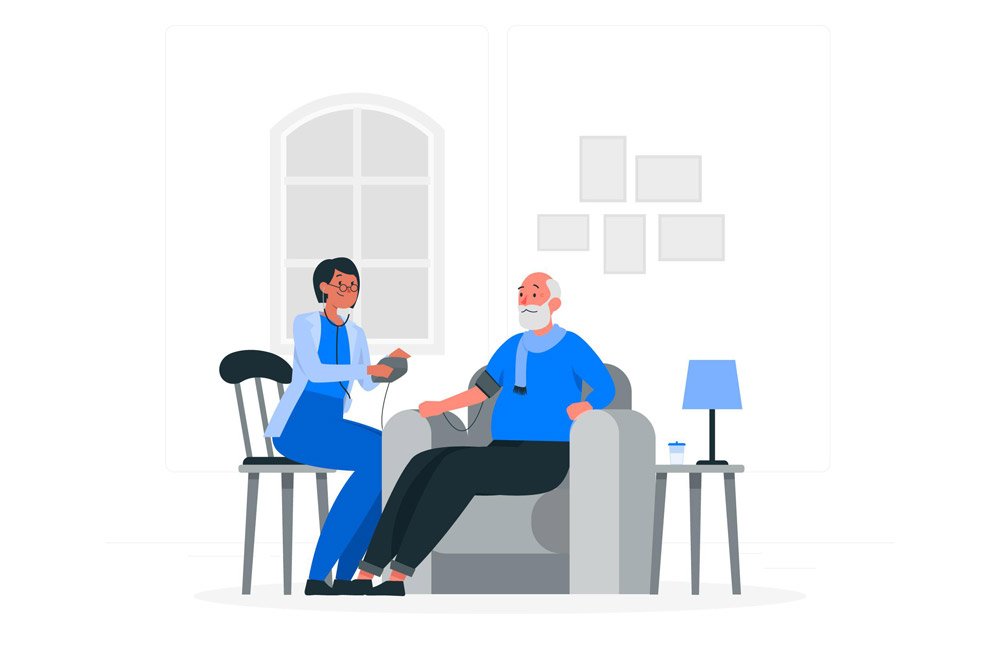 How Home Visit Doctors are Beneficial for Patients?
September 5, 2023
Your Roadmap to Finding a Geriatrician Near Me
October 18, 2023
It is indeed a challenging journey. As a caregiver, understanding each stage of dementia can provide a compass to effectively navigate this mentally and emotionally demanding landscape. This article provides the map you need to confidently journey through its various stages, equipped with the most relevant information, effective tools and strategies. Your role as a caregiver is pivotal, sanctioning continued dignity and quality of life for your loved one in the face of dementia's trials. Let's explore the stages of it and reshape your caregiving experience, bolstered by knowledge and understanding.
What is Dementia?
Dementia, often misunderstood, is not a disease but a collective term for an array of symptoms associated with cognitive decline. It affects memory, thinking skills, and the ability to perform everyday tasks. Its impact on a person's life can be far-reaching, affecting not only the individual but also their loved ones. It is a progressive condition, indicating that symptoms will deteriorate gradually as time goes on. However, the rate at which this happens varies from person to person.
To provide effective caregiving, it is essential to first grasp a comprehensive understanding of dementia. The brain is a complex organ, and understanding the effects, it can help caregivers manage the condition better. It occurs when brain cells (neurons) get damaged and cannot communicate effectively with each other. This disruption affects the normal functioning of the brain, leading to the symptoms we associate with dementia.
Recognising it early can make a significant difference in managing the condition. Early detection allows for early intervention, which can slow the progression of the disease and improve the quality of life for the individual and their family. Armed with the right knowledge, caregivers can provide the for their loved ones going through this journey.
Common Types of Dementia
There are several types, each with its unique symptoms and progression patterns.
Alzheimer's disease: It is the most common type which accounts for 60-80% of all cases. It typically begins with memory loss and progresses to severe cognitive and physical decline.
Vascular dementia: It is the second most common type, usually resulting from a stroke or other conditions that block blood flow to the brain. Unlike Alzheimer's, vascular dementia often occurs in a stepwise manner, following a stroke. Symptoms vary widely but can include difficulties with problem-solving, focus, and reasoning.
Lewy body, frontotemporal, and mixed dementia (a combination of two or more types) are lesser common types of dementia. It's essential to understand that each type of dementia presents differently, and the caregiving approach should be tailored accordingly.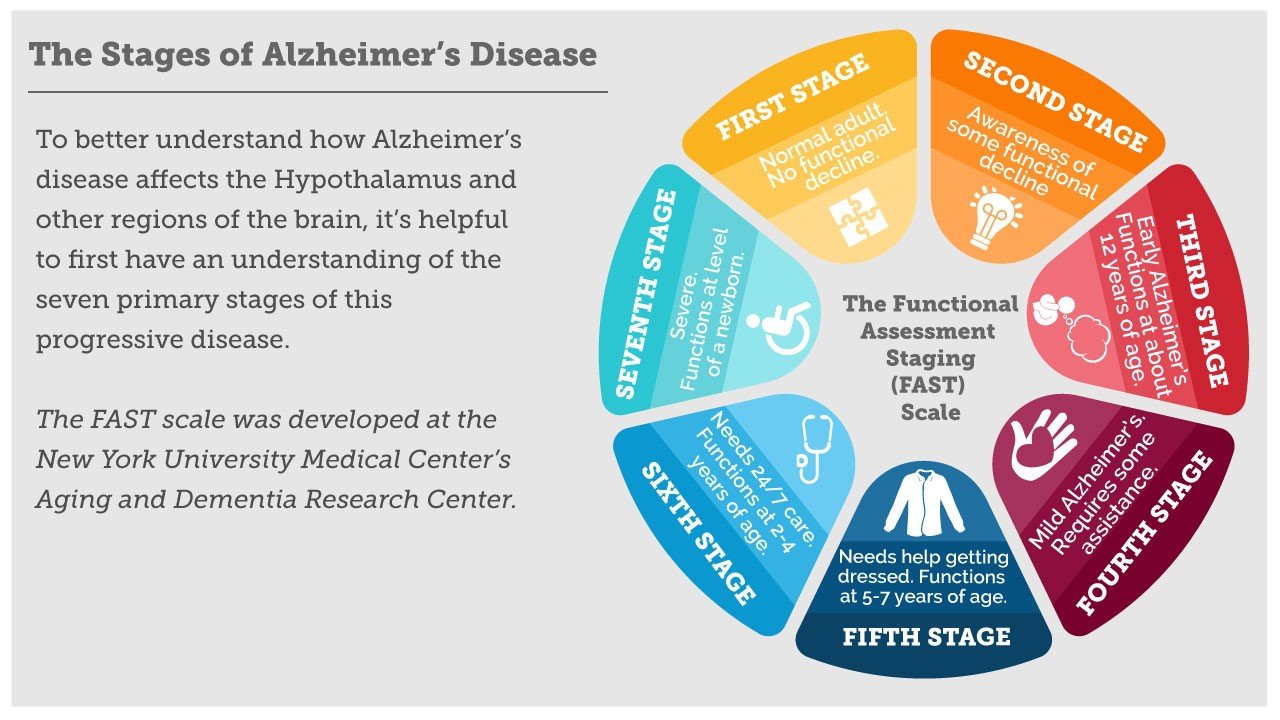 Recognising the Early Signs
Understanding the early signs is crucial for early intervention. Some common early symptoms include memory loss that disrupts daily life, difficulty completing familiar tasks, and challenges with language. Other signs can be subtle changes in mood and personality, decreased or poor judgement, and withdrawal from social activities.
Early signs often resemble normal ageing, making it difficult to identify. However, what sets this apart is the impact these symptoms have on daily life. When these symptoms become frequent and interfere with daily activities, it's time to seek medical advice.
It's important to remember that these symptoms do not necessarily mean a person has dementia. They could be due to other health conditions that can be treated or managed. Therefore, any concerns about memory loss or other cognitive changes should be discussed with a healthcare provider.
The Middle Stages: What to Expect
The middle stages, often the longest stage, can last for several years. During this time, the person with dementia will require a higher level of care. Symptoms during the middle stages can include increased memory loss and confusion, difficulties recognising friends and family, and physical symptoms such as difficulty walking or incontinence.
Despite these challenges, individuals in the middle stages can still engage in meaningful activities. Caregivers can provide structured routines, simple activities, and tools to help their loved ones maintain a sense of independence and dignity.
Effective communication is also vital at this stage. Individuals with dementia might have difficulty finding the right words or following conversations. Caregivers can help communication by speaking clearly, using non-verbal cues, and showing patience and understanding.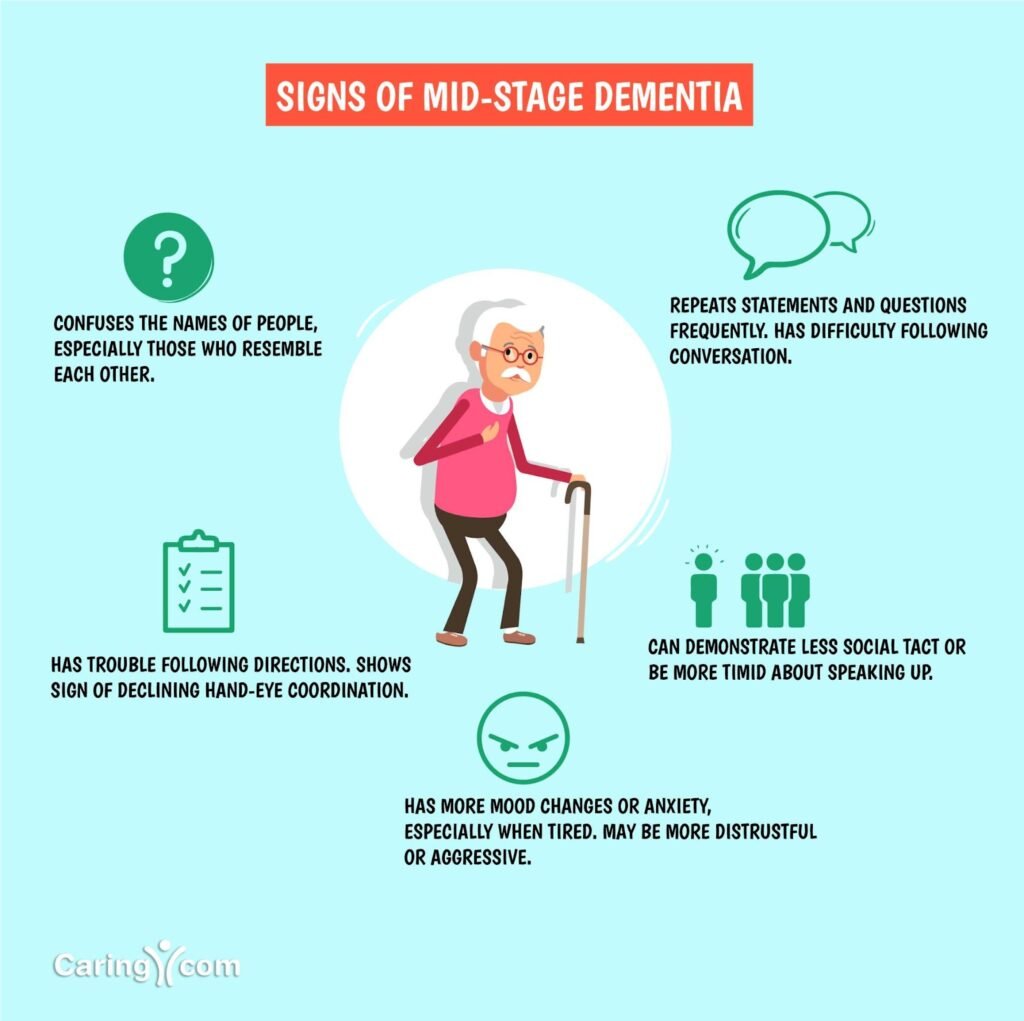 Navigating the Advanced Stages
The advanced stages are often the most challenging for caregivers and loved ones. Cognitive decline is severe, and physical symptoms become more pronounced. Individuals may lose the ability to communicate, recognise loved ones, or control their movements.
Despite the difficulties, caregivers can make a significant difference in their loved ones' quality of life during these stages. Providing physical comfort, maintaining a calm environment, and offering emotional support can all help to soothe and comfort the person who's suffering with it.
It's also essential for caregivers to take care of themselves during these stages. These stages of dementia are often pronounced with challenging behaviours. These challenging behaviours include agitation, screaming, wandering, incontinence, and anger outbursts, which can be particularly daunting, resulting in caregiver burnout. Ensuring self-care, seeking support from others, and taking breaks when needed can help maintain the caregiver's well-being.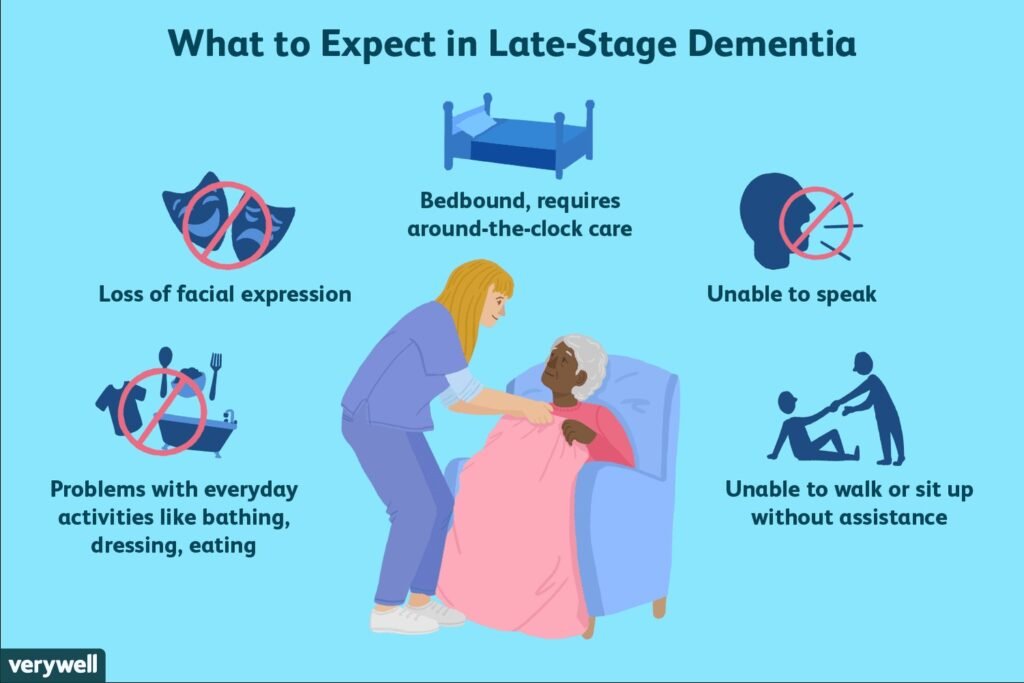 Emotional Challenges for Caregivers
Being a caregiver for a person with this condition can be emotionally challenging. Feelings of sadness, frustration, guilt, and burnout are common. Recognising these emotions and seeking assistance when necessary is crucial.
Many caregivers find themselves feeling isolated or overwhelmed by their responsibilities. Connecting with others in similar situations can provide a sense of community and understanding. Support groups, both in-person and online, can be invaluable resources for emotional support and practical advice.
Remember, self-care is not selfish. It's essential to maintaining your physical and emotional health, which in turn allows you to provide the best care for your loved one. Regular exercise, healthy eating, sufficient sleep, and making time for hobbies and relaxation can all contribute to improved mental well-being.
Tips for Effective Dementia Care
Effective care involves patience, understanding, and flexibility. Here are some tips to help you go through dementia care giving journey:
Keep routines consistent: This can help the person with dementia feel safe and less confused.
Encourage independence: Support independence by giving your loved one the opportunity to manage as much as they are capable of independently. This can help maintain their skills and sense of self.
Use simple, clear communication: Avoid confusing phrases and speak in short, straightforward sentences.
Engage in meaningful activities: Activities that the person enjoys can enhance their quality of life and mood.
Be patient and flexible: Remember, it affects everyone differently. Adjust your approach as needed and always approach your loved one with patience and understanding.
Your Journey of Compassion and Understanding
Going through the various stages of it can be challenging, but with understanding and preparation, caregivers can provide compassionate and effective care for their loved ones. Remember, you're not alone in this journey. Reach out for support, take care of your own well-being, and know that every step you take is making a difference in your loved one's life.
Knowledge is power, and understanding it and its stages can equip you with the tools you need to provide the best possible care. As a caregiver, you're not just providing home care assistance, but also love, comfort, and dignity. Your role is vital, and your efforts make a world of difference. So keep learning, keep caring, and remember that every day is a new opportunity to make a positive impact.